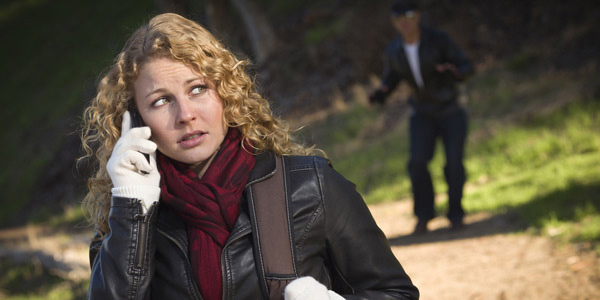 One in six  women and one in nineteen men will be victims of stalking in their life times. That's a pretty depressing statistic, especially if you are one of those being stalked. Normal people do not stalk others. Therefore, if someone is stalking you, they are disordered to one degree or another.
The definition of stalking in modern academic literature is "a course of conduct directed at a specific person that involves repeated physical or visual proximity, non-consensual communication, or verbal, written, or implied threats sufficient to cause fear in a reasonable person" (Bartol and Bartol 291, citing Tjaden 1997). Referring to stalking as a course of conduct is important because a stalker repeatedly intrudes upon another (McEwan, MacKenzie, and Ogloff 1469). Stalking is not an isolated incident but a pattern of actions that usually becomes more aggressive with time (Robinson 188, Dietz and Martin 750).
Stalking is an obsessional pursuit of another person that is willful,  malicious, and threatens the target's safety. Stalkers usually believe that they have a meaningful personal relationship with the victim whether the victim believes that or not (Miller 5, Kamphuis and Emmelkamp 795). Because stalking is a crime of power and control that is frequently an extension of domestic violence, it utilizes harassment and intimidation to keep the victim's focus on the stalker (Sexual Harassment Support, Miller 5, 6). Ultimately, the stalker is looking for attention (Stalkingvictims.com).
One of the best resources I have found on the Internet is a "Stalking hand book" by Emily Spence-Diehl, and it is totally free on line.
http://www.victimsofcrime.org/docs/src/stalking-a-handbook-for-victims.pdf?sfvrsn=2
I know from talking to abuse victims and others over the years a that many of "us" have been stalked. My stalker was a man my son Patrick sent to kill me, who teamed up with my daughter-in-law and when they couldn't find me, robbed my mother and tried to kill my oldest son, Andrew. I knew my DIL was not a "nice person," but it never occurred to me that she would try to kill her husband.
Those of us who have been stalked know the anxiety it provokes, and unfortunately, the law is not always violated unless there is physical damage to you. At which time, of course it is too late. There is an old joke about "I carry a gun because a cop is too heavy" Another one is "when seconds count, the police are only minutes away." In my case out in the country it is usually 30 minutes or more before the police arrive. So we have to be able to depend on ourselves to keep ourselves safe. If you are not comfortable armed, then there are other ways to protect yourself even if you are not a marital artist. One of the effective ways is a can of wasp spray, that shoots a stream of poison about 20 feet (not a spray of droplets). It's cheap, legal and effective if you have to use it.
Gavin DeBecker's book, The Gift of Fear, http://www.amazon.com/Other-Survival-Signals-Protect-Violence/dp/0440508835/ref=sr_1_1?s=books&ie=UTF8&qid=1418769233&sr=1-1&keywords=gavin+debecker  about how stalkers work and think, is a very interesting book, and he was himself a victim of abuse. He instructs us to listen to our fears, and not discount them as "not real." Our intuition is a gift to help keep us safe. If you feel threatened, listen to your fears, and act accordingly. If someone makes your skin crawl, back away from them. You don't have to know "why" you feel that way, it doesn't matter "why" just know that your feelings are valid.
If you have been or are being stalked, make sure that someone knows who is stalking you, and above all keep yourself safe. Do not respond to the stalker or try to "reason" with them, they are not reasonable. Make a police report even if they haven't "crossed the line" the police may convince them to leave you alone.